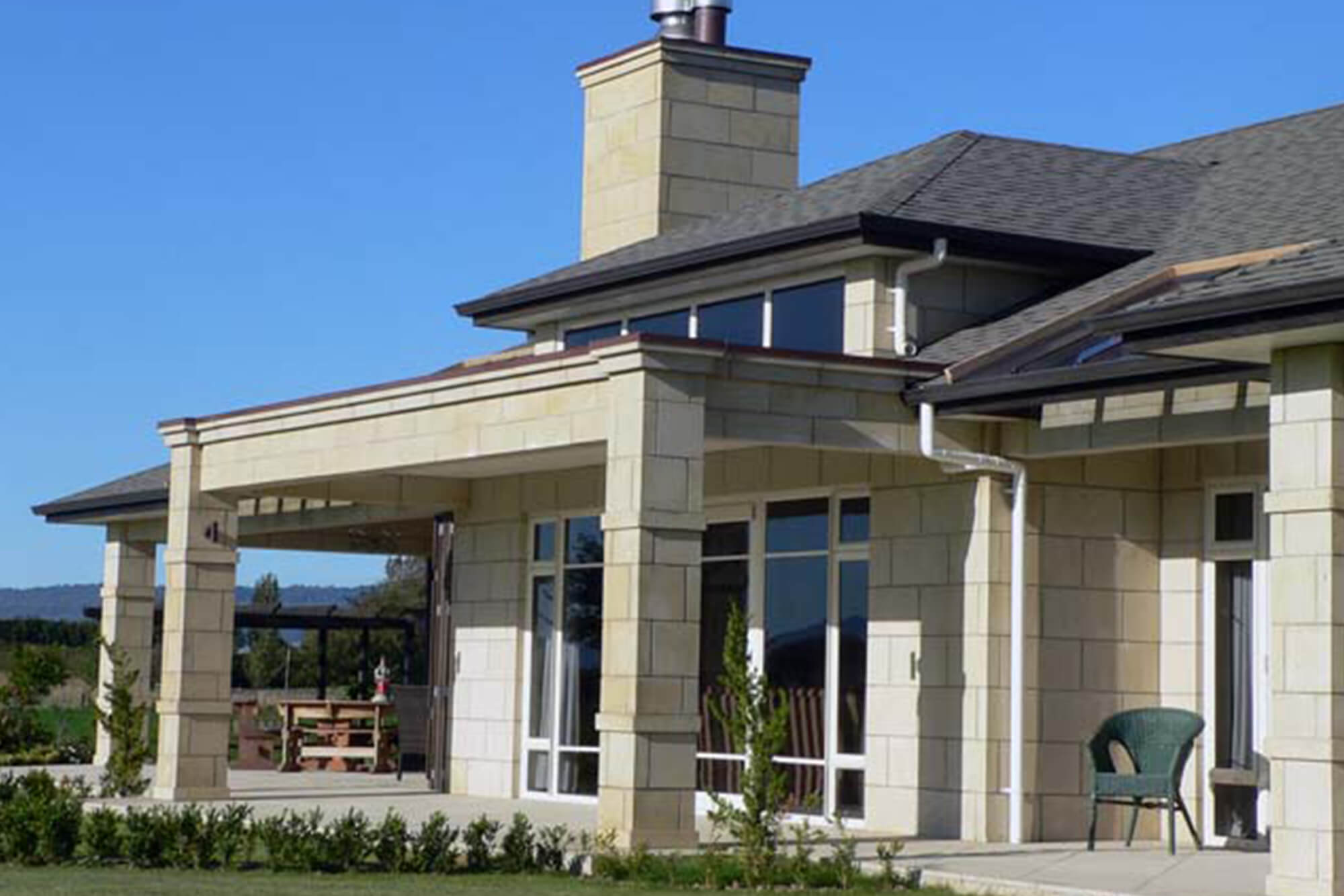 Cladding panel
The Cladding Panel Wall Alternative is Timbercrete's revolutionary new system that is a drop-in replacement for brick veneer or weatherboard style construction. It creates a beautiful large stone appearance.
The new Cladding Panel comes in two standard sizes: Standard Panel Size Half Panel Size Size 900mm (l) x 300mm (h) x 50mm (d) 600mm (l) x 300mm (h) x 50mm (d)‡ Weight 15kg each (55kg/m2 )† 10kg each (55kg/m2 )
Coverage 3.7 panels per m2 5.5 panels per m2
† A standard clay fired brick wall typically weighs 190kg/m2 at 110mm thick
‡ The half panel is not a true half creating a beautiful staggered joint pattern
Beautifully Unique Appearance
Panels can be laid in a stacked joint pattern creates a clean-line monolithic look, whereas the staggered joint gives the appearance of large dry stack sandstone. Aside from a sandstone look Timbercrete cladding panels can come in a vast range of other colours.
Cost-Effective
Regardless of which fixing method you choose one thing is certain, Timbercrete fixing panels are far more cost-effective per m2 than a standard brick veneer style of structure. To begin with there are significant savings on footings and foundations followed by savings on the product and installation of the product.
Solving a Common Masonry Problem
The Achilles heel of all masonry structures is their rigidity and weight. This rigidity often manifests itself in cracking, especially when there is movement in the soil as a result of changing weather conditions leading to a phenomena called "dishing and doming". This phenomena calls for heavily reinforced and thickened slabs and footings adding significant expense. Timbercrete has addressed this issue by offering the market the first ever lightweight yet flexible masonry wall system. Due to the fact that the panels are lighter and all joints are semi flexible, the footing and foundations should conform to the size and standard that is typical for a timber frame and weatherboard style structure. The flexible lightweight nature of this system makes it an ideal choice for building in mine subsidence areas or those prone to earthquakes. Because the panels rest on each other, they do not load-bear on the frame, nor do they load bear on the wall sheeting but on the footings, slab, or on a timber face plate called a "wailing plate", or on bearer and piers with suspended timber floors. When using Timbercrete bracket system (like a brick veneer) the wall does not feel the weight of the panels.
Fixed and Flexible Mortar Joints.
Each panel has a thin (5mm) mortar bed using a high-strength high bond masonry mortar/glue combined with an optional highly flexible, watertight/airtight silicon joint. This unique combination of flexible and nonflexible materials eliminates any possible cracking issues as a result of severe ground movement, expansion or contraction.
This innovative method addresses many of the cracking issues typically associated with masonry veneers.
Fire resistant
Timbercrete does not burn like; Timber Weatherboard, Hardy Plank, Vinyl Siding and the like. Walls tested with Timbercrete achieve the highest possible fire rating. Due to its thickness and insulating qualities it achieves a higher fire rating than thinner high density products such as fibro or cement sheeting. *Please ask us for the BAL rating certification.
Building Made Fast and Easy
This simple to install wall panel system, will do away with the problems associated with bricklaying. It is significantly faster to erect and can easily be installed by a competent tradesmen or handyman.
Adjustable Brackets.
Our purpose-made galvanized metal brackets are designed to correct crooked stud frames. This ensures a perfectly flat and straight wall finish. Each bracket is secured to the stud with a self-tapping screw. The Bracket is fixed to the top of the panels with nails or screws, this unique method of fixture allows for a 40 mm to 50 mm cavity behind the panels as per a brick veneer style of construction.
Sisalation and Installation
Sisalation is sandwiched between the back of the panel and the face of the stud and is put in place before the panels are fixed. Installation is also placed between the studs as per standard practice.
The Tiling Method
Timbercrete fixing panels can also be glued directly to concrete walls, cement blocks, clay bricks, or fibro sheeting such as Hardy-flex or Blue Board. Timbercrete can also be nailed and screwed into just like timber without pre-drilling, this means Timbercrete panels can be secured into any substrate with various types of screws.
A Durable Finish
Regardless of how you choose to install the panels the end result will be a no maintenance highly durable and long lasting wall finish. Even at only 50mm thick, lightweight Timbercrete Panels are shock resistant and resilient.
Optional Sizes
Timbercrete prides itself on being Australia's most versatile brick, block, paver and panel manufacturer. Talk to your local licensed Timbercrete manufacturer and you may be pleasantly surprised with the versatility in size and shape (some limitations apply). If we don't have the size and shape you we may be able to tailor make a panel to suit your specific requirements. A small additional cost will be charged for specialty mould manufacturing.